The Book for Cat People: Shop Cats of New York
Published about 7 years ago by Leah de Roy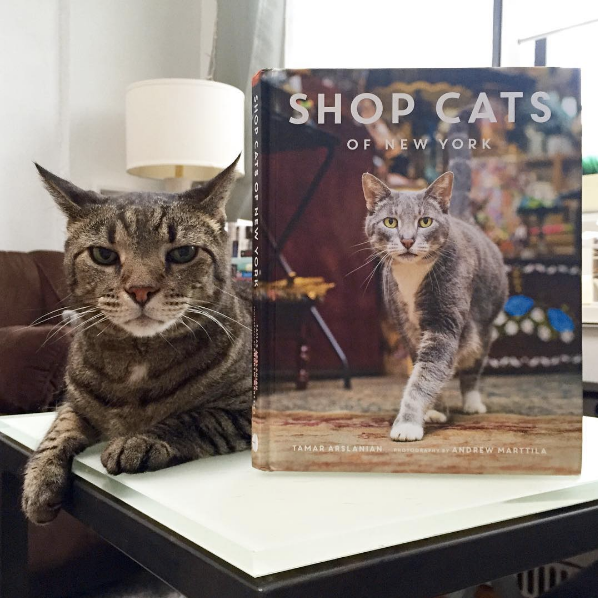 Photo: Andrew Marttila
I am one of those people who will drop everything to pet a cat. It does not matter where I am, who I'm with or what I'm doing; if there is a cat within a five-mile radius, you can bet I will find it, and I will pet it.
You have probably visited a bookstore or a coffee shop that has a resident cat. And, if you're like me, you probably became so overwhelmed with joy that you instantly forgot about the iced Americano or the secondhand copy of Moby Dick that you specifically came for.
Shop Cats of New York is the book for our kind of people. It is the joint masterpiece of Andrew Marttila and Tamar Arslanian, two of the coolest humans in the cat world. Andrew is a professional pet photographer based in Philadelphia; Tamar is the writer of I Have Cat, a fabulous and hilarious blog about being single with cats in New York City.
Photo: Andrew Marttila
Each page in the book presents a stunning, full-colour photograph of a feline in the NYC establishment they call home, from coffee shops, bookstores, and universities to pilates studios, distilleries and laundromats. Accompanying Andrew's photos are insightful and amusing blurbs by Tamar on each cat's story: how they became a shop cat, their favorite spots to sleep and people-watch, and what their relationships are like with the business owners and clientele.
Photo: Andrew Marttila
Though I couldn't help but fall in love with every feline in the book, I must say that my personal favorite was Clive, a cat who lives in a dog boutique. His owner was self-proclaimed dog person until he inherited Clive from his former business. Now Clive lounges on the front desk of Canine Styles, winning the hearts of even the most dog-crazy customers.
Shop Cats captures both the magic of New York and the city through each cat's eyes. For those who believe felines lack personality, this book will prove you wrong. For those who love cats as much as I do, the book will inspire you to become better acquainted with the cats in your own neighborhood.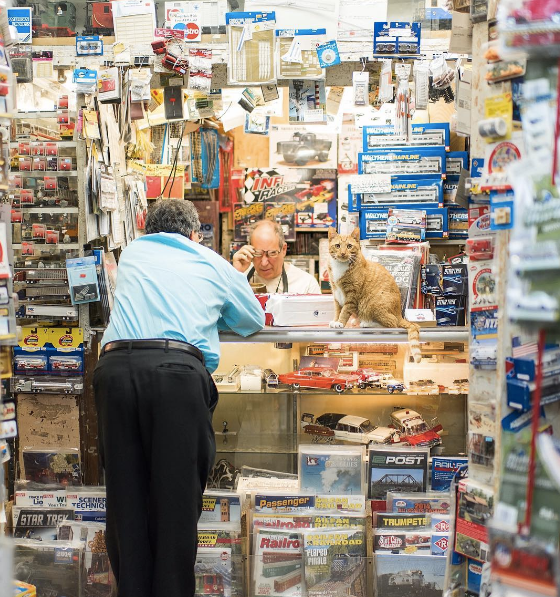 Photo: Andrew Marttila
New York is known as the most densely populated metropolis in the United States. Shop Cats draws attention to the gems scattered throughout the city, and the communities that come with them. It is a love letter to the feline species, but it is also a love letter to the Big Apple. Whether you live in New York or Chicago, Vancouver or Saskatoon, this book will give you an appreciation for the small nuggets of beauty and love around you (and not just the furry ones!).
Photo: Andrew Marttila
Shop Cats of New York belongs on every cat lover's bookshelf or coffee table. Funny, touching and inspiring, it's an instant clawssic.
Just in time for Christmas, Shop Cats of New York will be available worldwide on November 1st. You can order your hardcover or ebook copy from Amazon or numerous other retailers.
Share this post