2019 Holiday Gift Guide For Cat Lovers
Published almost 4 years ago by Katie Rand
With so many ameowzing cat-themed items out there, finding a gift for the cat lovers in your life (or your own cat-loving self of course!) can be either very easy or very overwhelming. To help relieve your stress during this busy season, we have put together a list of adorably festive cat-themed gifts. Now you can kick back with some peppermint hot chocolate and your favorite Christmas movies (that is, if your cat hasn't stolen your chair by now).
Pajamas
Pajamas, $66, Shopbop
Cute pajamas are a staple wardrobe essential, and cat-patterned pajamas are even better!
Pretty Pastel Mug
Mug, $11.99, Wayfair
Your cat-loving friend probably owns a hundred cat mugs, but do they have one this pretty? Probably not. Even better, it's 20% off right meow!
Cat Baby Onesie
Onesie, $25, meowboxshop
If you have a new baby or know a cat person who does we can't think of a cuter gift! From now until Christmas take 15% off with code HOLIDAY15
Cat Cushions
Cushion, $20 (CAD), Catomelon
Any item from Catomelon's cushion collection would make the purrfect present for a cat-lover. Catomelon's site is full of adorable cat items from housewares to apparel to stationery. Bonus for those in Canada, this company is based in Toronto and offers low cost Canadian shipping (they ship to the US too!). From now until December 31, 2019 take 10% with code CATOMELON10.
Meow Ring
Ring, $16.80, Meowingtons
This highly rated cat ring is dipped in yellow gold and we think it's the purrfect way to express your love for felines in a stylish way.
Blanket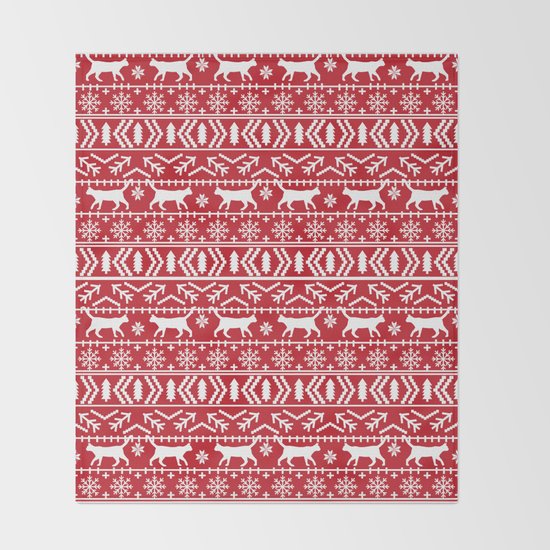 Blanket, $30, Society 6
You would probably buy this cat-patterned Fair Isle blanket for your human friend, but let's be real - if they have a cat, a blanket this soft won't be theirs for long. Luckily it's big enough for human and kitties to share.
Wine glasses
Wine glass, $12, Etsy
Cats are great. Wine is great. Therefore, these wine glasses are puurrfect.
Phone case
Phone case, $40, Casetify
Glitter + cats? We are all in on this one.
Purr Cat Dish
Dish, $9.95, Crate & Barrel
Tested by members of the meowbox team, these make the perfect dishes for cat food wet or dry. With all 5 star reviews these dishwasher safe ceramic cat dishes are sure to put a smile on any cat owners face.
Purrfect Pairing
Case of 12, $14.19, Love Nala
And if you're buying dishes we've found the perfect food to go with them. Just launched this year, Instagram favorite, Nala Cat, now has her own cat food line. There's wet food and dry food in a variety of flavors. WIth real meat as the first ingredient and no artificial preservatives, colors or flavors (also grain free) a sampling of Nala Cats favorite food would make a very happy Christmas morning for any kitty! From now until December 31, 2019 use code MEOWBOX for $5 your order (minimum order value of $25, limited to one per customer).
meowbox subscription
meowbox gift subscription, $29.95-$137.70
You can't blame us for the shameless self-promotion. What better way to spoil a cat lover than purchasing a box of surprise toys and treats for their feline? They claim you can't buy someone's love, but we beg to differ. From now until Christmas use code HOLIDAY10 for 10% off your order.
Share this post