Last Mewnute Gift Ideas
Published almost 7 years ago by Leah de Roy
During this busy season, it's easy to forget about gift-shopping until the last possible moment. Don't worry, it happens to the best of us! For those who are stuck with no gift and little time to spare, here are some last-minute gift options for the cat lover in your life.
Shelter donation
Give cats in need some much-deserved love this season by making a donation to a local shelter in the gift recipient's name.
Cat magazine subscription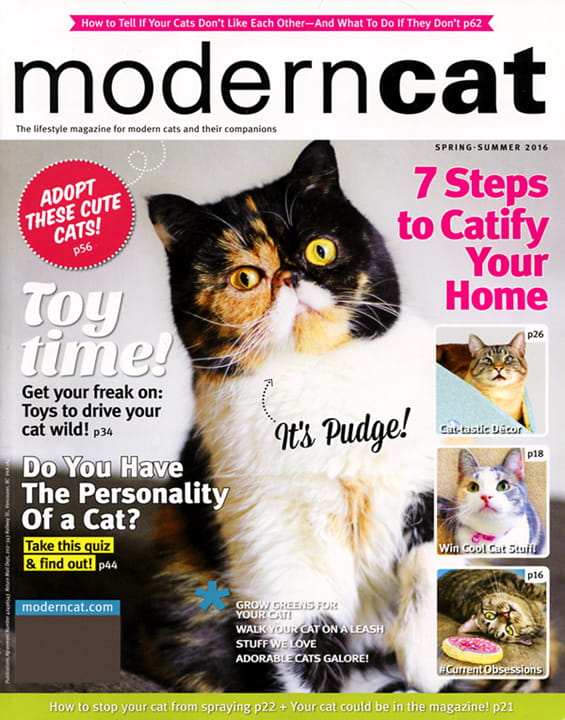 Subscription to Modern Cat magazine, $18
An easy and affordable gift for any cat parent.
Cat beanie
Cat beanie, $68.00, Nordstrom
This cat beanie by Kate Spade is a splurge if you really want to spoil the cat lover in your life but there are plenty of other cat items from Nordstrom that will all arrive by Christmas eve. From phone cases to pillows and slippers, there's something for everyone!
Socks
Cat socks, $4.90, Forever 21
Cat socks are practical, inexpensive and easy to find. This pair from Forever 21 is our favorite but there are plenty on Amazon and many other web retailers too that can deliver by Christmas eve!
Colouring book
Colouring book, $8.36, Indigo
Puurrfect for the cat lover who is also a kid at heart.
Cat mugs
Cat mug, $14.00 (currently on sale for $9.80), Anthropologie
This adorable mug is from Anthropologie.com and can be shipped in time for Christmas! Amazon Prime is another lifesaver for last minute shoppers, you can pick from millions of items that can be delivered by the holidays, but obviously we gravitate straight to the cat section. There's a huge assortment of cat mugs and other cat related items that are purrfect for the cat lover on your list!
meowbox gift certificate
Gift certificate to meowbox, $32.95-$137.70
The ultimate way to spoil a cat person is to spoil their cat. Save your wrapping paper and order a gift certificate at meowbox.com/gift. Within minutes we'll email the gift recipient their voucher code to redeem their subscription or you can print out our gift certificate yourself (we even have holiday themes) and wrap it up to give in person. You can't get much more last minute than that!
For more gift ideas check out our previous holiday gift guide, many items are still able to be delivered before Christmas!
Share this post