The Top 9 Careers For Your Cat
Published over 7 years ago by Joseph Cuzzocrea
Sometimes, at the end of a long day, I look at my three furry angels snoozing on the couch and think "Hmm, this doesn't seem fair." When I told Gummy the cat that she would have to start pulling her own weight, she stared at me skeptically. "Lots of cats have jobs," I told her, "there's no reason you can't start helping out more around here."
Are you tired of your cats hanging around all day, lounging around while you bust your hump to bring in the cash? Worry no more! There are plenty of jobs out there for cats – here are just some of the positions that they can consider.
1. Town Mayor
Hey, why not start at the top? Despite a dog attack, being shot by a BB gun and falling into a vat of cold oil, Mayor Stubbs has been the honorary mayor of Talkeetna, Alaska since July 1997. Perhaps a presidency bid is on the horizon?
2. Actor
If your cat has the looks and personality to appeal to the masses, then you may have a Hollywood star on your hands! Here are some tips to help your cat get their big break.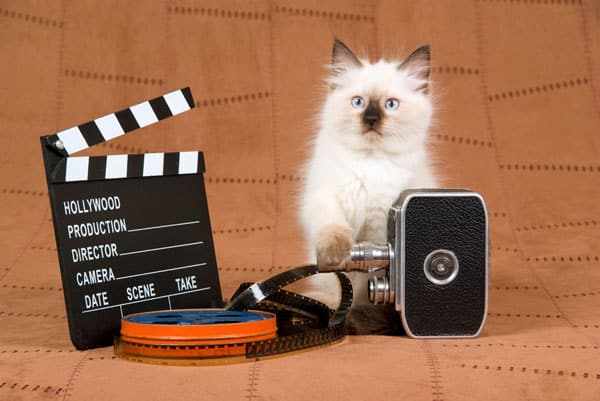 Catster
3. Printing Manager/Coordinator
Okay, fine, I don't actually know of any cats with this position, but I think that most felines would be pretty well suited for it, as they seem to have a true love for the profession.
4. Therapy Cat
Cats are a great source of love and comfort to us as owners…watching them share that with others is a job that is the most rewarding of all. Therapy cats are becoming more and more common, and according to this article, they are making a world of difference to individuals with Alzheimer's.
5. Train Stationmaster
Kishi train station in Wakayama, Japan knows that cats are good with directions. That's why they trust the Stationmaster position to the fabulous Nitama, who recently took on the position from the beloved Tama, who sadly, left us to cross the rainbow bridge in 2015.
6. Masseuse
Cats do have the magic touch, and they can even practice at home, both on you and each other.
7. Author
It's no secret that cats love to curl up with a laptop, so why not take advantage and ask them to do some freelance writing? Even if you can't get anything done on the computer, they can. To test this theory, I had Oscar, my most creative cat, do some work with the keyboard:
Oupihcdbilhd boiqenc. Pi fjnqfepun - Genius! I have the next Shakespeare on my hands.
8. Internet Sensation
Grumpy Cat did it, Maru did it, and let's not forget all of our other favourite felines drawing in the crowds on social media. I have tried asking Gummy to frown a little more in her pictures, or if not, smile a little more. "Come on," I begged, "just wave your paws up and down or do some crazy eyes or SOMETHING!" but I get nothing. I still don't think she is taking this "job" thing too seriously.
9. Supreme Ruler of Your Life
Okay let's face it, your cats already have this job, and it's a pretty good gig.
About the author
Julia Jones-Bourque is a cat lover from Edmonton, Alberta, Canada who is the proud human to three cats: Gummy, Romey, and Oscar, all adopted from the Edmonton Humane Society. When she is not working at her day job in marketing and communications, Julia is probably petting Gummy, hugging Romey, and telling Oscar to "get down from there."
Share this post