Father's Day Gifts for the Cat-Loving Dad
Published over 7 years ago by Leah de Roy
Father's Day is just around the corner, and if you're anything like me, you are still at a total loss as to what to get for your dad. For some reason that I cannot quite fathom, fathers are just impossible to shop for. There are only so many Starbucks cards one man needs, and as great as gift ideas like these are, I am probably more likely to use a whiskey-making kit than my dad is.

So, what are some gift ideas that are fun, creative, and at least somewhat functional? For those with feline-adoring dads, I've compiled a list of the best cat-themed Father's Day gifts, from designer cat slippers to $10 coffee mugs. Who says "crazy cat man" isn't a legitimate term?


Cat tie
$24, Urban Outfitters (sold out - similar)

Forget those boring neutrals and conservative plaids! In this tie, your dad will be the snazziest-dressed at any business meeting.


Cat slippers
$725, Charlotte Olympia

The ideal gift for cat-loving dads with dapper taste (and cold feet). Charlotte Olympia's Cool Cat slip-ons and Purrrfect High Tops are less pricey options that are just as cool.


Cat t-shirt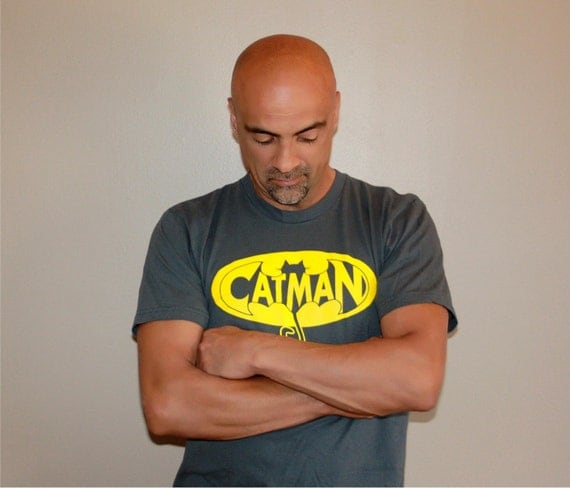 $32, Etsy

And if your dad's more of a Star Wars kind of guy, this alternative is just as good.


Cat dad mug
$16, Leanna Lin's Wonderland

So he can proudly flaunt his "cat dad" status while enjoying his morning coffee.


Cat socks
$10, The Sock Drawer

You can't go wrong with a good pair of socks—especially cat-patterned ones.


Cat beer
About $35 for a six-pack, select beer and wine stores

And if your dad prefers wine to beer, not to worry - we've got him covered, too!


Cat beanie
$5, RipnDip

For those jokester dads…


Cat golf club cover
$25, Amazon

Your dad can keep his golf clubs snug with this adorable and practical headcover.


Cat apron $15, Royal Academy

Whether he's whipping up cookies or barbecuing a steak, this apron is a must-have for dads who love to cook as much as they love kitties.


Cat iPad case
$98, Etsy

This handmade iPad Air case—which is also available in sizes for iPad minis and eReaders—is purrfect for gadget-loving dads.
Share this post